Melbourne Tour Packages on our website gives you the opportunity to explore Melbourne and its surrounding in a fun and convenient way. With a wide range of tour packages available, you can choose the one that best suits your needs and interests. Whether you're looking for a Melbourne city tour, a Great Ocean Road tour, or a Phillip Island tour, there are numerous Melbourne tour packages to choose from.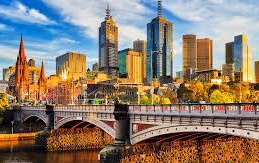 Melbourne is one of the most popular tourist destinations in Australia, and for good reason. The city offers a unique blend of culture, cuisine, and history, set against a backdrop of stunning Victorian architecture. There are plenty of tour packages to choose from, so it's easy to find one that suits your interests and budget.
One of the most popular Melbourne tour package is the Melbourne Sightseeing Tour, which takes you to all the city's most famous landmarks. You'll get to see the Melbourne Cricket Ground, Federation Square, Flinders Street Station, and much more. These tour packages also includes a stop at the Melbourne Zoo, where you can see Australian wildlife up close.
Whether you're looking for culture, history, or just good food and wine, there are plenty of tour packages to suit you.